The Tool That Can

Help Alleviate Foot Pain

!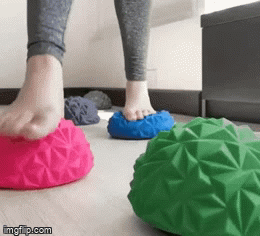 Whether caused by fatigue, unsupportive footwear, weight, or muscle dysfunction, unaddressed foot pain may affect one's lifestyle, or worse, cause severe injury. You can now ease the problem with Body Rolling Foot Waker.

The Body Rolling Foot Wakers can help dig deep into sore and tired muscles, stimulate blood circulation, and target reflexology points!  Relaxing using this foot walker helps improve posture as it improves the alignment of all parts of your body. With Foot Wakers, it is easy to add foot fitness to your daily routine. Use them sitting at your desk, watching TV, or relaxing. Use while standing up for increased intensity.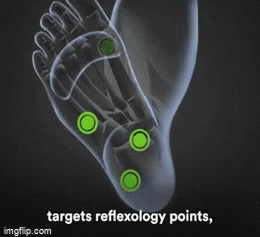 FEATURES:
Relaxing Massager:
Increases flexibility, stretches, and relaxes tight foot muscles for better relaxation.


Better Blood Circulation:


Stimulates better blood circulation in your feet and also improves circulation to your legs and feet.
Relieves All Foot Pain:
Helps prevent or alleviate pain from plantar fasciitis, Morton's neuroma, flat feet, fallen arches, sore feet, bunions, and hammertoes.
Improved Posture:
Improves your posture as it improves alignment in all parts of the body.

Compact & Portable:


Perfect for carrying along when you travel to help you relax after.
SPECIFICATIONS:
Material: PVC
Size: 16.5x8.5cm
Color: Blue,Orange,Pink,Green,Red,Purple,Gray
PACKAGE INCLUDES:

1 x Body Rolling Foot Wakers
SHIPPING DELAY NOTICE:
Please be expected 2-4 weeks shipping delay due to High Volume of Order